It'll Go Wherever You Will Go
High Quality 3-way Dividable Portable Electric Guitars with Innovative Features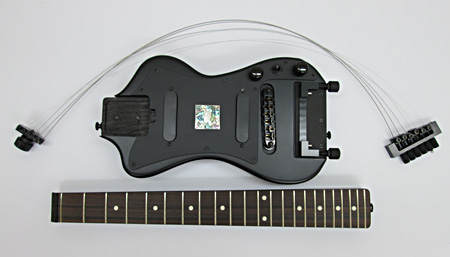 New portable electric guitars with innovative features from Japan. Come in two different pickups - humbucker and single coil.
Also five different pickguard types are available.
Patent pending. It is the newest travel guitar you can find in the market.
Three-way dividable (string, neck, body)
24-inch neck scale
Easy tuning
Stable tuning by zero fret
Spoke wheel nut used for tuning
High-class looking with abalone emblem
Smaller than hand luggage size allowed on planes
It's not a travel guitar you have known
SG Technologies presents new three-way dividable travel guitars with the features that no traditional portable guitars had. Each guitar is made by adept Japanese luthiers. You'll be surprised at its sound quality when you play it.
See how it works (in Japanese)
Compact !! You can take it anywhere with you.
| | |
| --- | --- |
| | Two different pickups - humbucker and single coil. |
| | |
| --- | --- |
| Five different types of pickguard available. | |